How to Spot the Right Spray Paint?
Just in case you have the intention to spray paint only some of the parts of your kitchen cabinet fronts, then it's highly recommended for you to search for a type of spray paint that is labeled as "tough modified alkyd paint." However, you will need to keep in mind that these spray paint won't last long, so if you plan to paint your entire kitchen, then you should buy a spray gun as well as the paint separately as this will not only save you more money but also helps to reduce waste.
Apart from that, you should always prime your doors first before you even start to paint them, no matter what paint you choose for your kitchen. This is because a primer will help you make sure that the paint you plan to paint on your door sticks to it for a long time. Besides that, a primer also helps you increase the paint's durability and provides an extra layer of protection on your door. You may purchase primers in a tin or as a spray can. In most cases, buying a tin of paint is far better as it provides you with a wider variety of colors that you could choose from.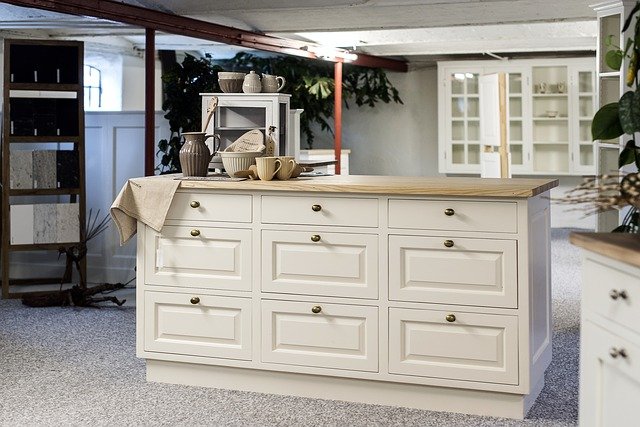 Which One is the Best for My Kitchen Cabinets?
Next, one of the best spray paint that you should use for your kitchen cabinets is the universal solvent-based paint or any solvent-based paint formulated. You should use a universal solvent-based paint because this type of paint has been specifically formulated to form a long-lasting and durable finish on the materials that you choose to work on, in our case, the kitchen cabinets. On top of that, it is also universal and can last long on vinyl, timber, and acrylic kitchen cabinets.
If you cannot get yourself a universal solvent-based interior paint, the suitable paint that you need to use should be based upon the material of the surface that you plan to paint. Most manufacturers would usually have a separate painting system for plastic and timber. Some of the types of paint that you should avoid are oil and water-based paints. The reason for this is that this type of paint is usually not an ideal choice for acrylic, vinyl, and plastic cabinet facings.
This type of paint will not be able to form a strong bond with the surface, which will cause the paint to not be able to stick to the surface properly. This also means that it will not last for a very long time. However, you may choose to use oil and water-based paint on timber cabinet facings. You will also need to keep in mind that you will need to sand the finish first before you paint it to ensure that the paint would stick on the surface effectively, resulting in a high level of durability of the paint.
What Type of Spray Paint Can Be Used On Other Kitchen Cabinets?
The best way to deal with acrylic, timber, vinyl, and plastic cabinet facings is by using a solvent-based painting system. The reason for this is that you don't have to waste your time and effort sanding anything as you can just paint with it straight away, and it will automatically bond with the surface on its own. Just be sure to label every cabinet panel first to avoid any confusion. You can do this by drawing a tiny diagram and then label them according to one fixed set of a system so that you will be able to put them back according to their own original places correctly.
If you have never used spray paint before in your life, then right before you start to spray paint, please make sure that you train yourself manually to get the hang of painting using spray paint. This step is essential as it helps you to avoid any unwanted errors that you might not want to have on your kitchen cabinets. Apart from that, for the sake of your own health, please make sure that you wear a mask respirator throughout the period of spray painting your kitchen cabinets to protect you from any illness.